.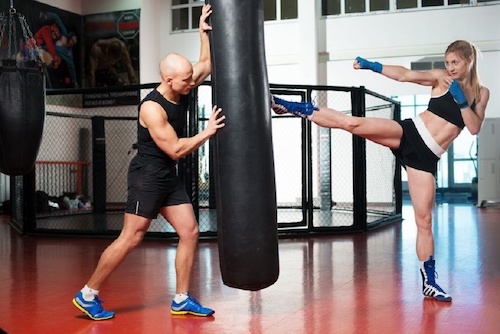 Bushi Ban Kickboxing Classes!
This high-end Kickboxing program isn't for the faint of heart! It was created for peak performers that want a hard-core workout that burns up to 800 calories in a single ONE hour session.
Ultimate Workout
This ultimate workout combines best of kickboxing and mixed martial arts fitness with high-intensity aerobics, and the latest, most progressive Bushi Ban training methods available. You'll learn to use your hands, arms, elbows, legs and knees to kick, punch and work yourself into top physical shape.

Plus, to make sure you get pushed to your limits, you'll jostle between cross training, bands, bag workouts, light weights, pads, heavy bags and much, MUCH MORE! You will be stretching, flexing, toning each muscle and sculpting your body with every class while shedding unwanted pounds.

With this Kickboxing program, your coordination will improve, your flexibility will increase, and your strength and stamina will hit an all-time high.
Just imagine
A tight washboard stomach
A lean sculpted torso
Well-defined arms, back and chest
Shapely calves and thighs
Weight loss & a toned body!
Best of all, you'll grow in all dimensions; physically, mentally and emotionally. The mental strength you will develop help you to think clearer, sharper, and with more confidence than ever before. PLUS, it is a great stress reliever!

No other program comes close!
Our instructors will provide you with the most effective, safe, and highest quality instruction available. You'll receive individual help as you master the basics and on-going guidance as your skill level increases.


If you want to take your workout from expert to EXTREME look no further!
Stress relief, fat loss, coordination, strength, stamina, flexibility, mental clarity, cardio health and a lean, sculptured body with a strong inner core are what you can expect from this incredible Power Kickboxing aerobics program.
You've already taken the first step. Don't procrastinate for one more second.
Get Started Achieving Your Goals Now!
To learn more about our Bushi Ban Power Kickboxing Program, please scroll up. On the right, you'll find a sign-up box, where you can fill in your contact details and have information immediately sent to your inbox.
Our Combative and Power Kickboxing Classes Are Located In
League City
La Porte
Houston-Almeda
Pasadena
Clearlake
Pearland
Seymour
Southbury
Benefits of Kickboxing Fitness
A tight, washboard stomach
A lean, sculpted torso
Well-defined arms, back, and chest
Shapely calves and thighs
Weight loss and a toned body