Everyone wants to achieve Black Belt status, but do you really know what it takes to be a Bushi Ban Black Belt? We have created our Nine Principles of Black Belt Excellence to guide our students on the journey. These are our core values, instilled in everything we do as we learn physical excellence.
Honor
Honor is one of the most important values of martial arts because it speaks directly to an individual's core morality. To conduct yourself with honor means to strive to live your life giving your absolute best in all aspects of honoring yourself and others with respect.
Honesty
Martial arts reinforces the value of honesty with others and honesty with yourself. The instructor-student relationship depends on honesty. Attributes such as integrity, truthfulness, straightforwardness of conduct, along with the absence of lying are what is important. Honesty also involves being trustworthy, loyal, fair, and sincere.
Integrity
Integrity is the consistency of our actions, values, and principles. Having integrity means that you live in accordance to your deepest values, you're honest with everyone, and you always keep your word. Integrity is a highly valued trait, especially in leaders.
Loyalty
In martial arts, loyalty is taught in many different ways. Staying loyal to your martial arts school and your instructor is important in your martial arts journey, as it allows you to develop consistency of character. It means being loyal and faithful to your commitments and obligations.
Dedication
In order to ascend through the ranks and earn new belts, kids that study the martial arts must exhibit dedication and determination. Learning to set and achieve new goals through devoted hard work and dedication to the training is one of the most valuable skills that a child can take away from martial arts.
Perseverance
Perseverance is an invaluable character trait. It's the ability to face a challenge and keep pushing forward, one step at a time. Martial Arts provides students with the tools to persevere when times get tough. When students set a goal to earn the next belt in class, they see past the obstacles and push on to achieve the goal.
Courtesy
In society, a general definition of courtesy would be polite behavior that is well accepted in society. In martial arts training, courtesy is one of the values that is given great importance. While learning, courtesy becomes a code that is necessary to follow during interaction with seniors, peers, and instructors alike. Bowing to each other symbolizes a sense of courtesy that is shared between all members.
Respect
Respect in the martial arts means obedience, certainly, but it is far more than that. Respect means treating others with deference and kindness. It means listening to elders. It involves simple courtesies like "yes, ma'am" and "no, sir." It means holding the door and helping an older person with their groceries. For a martial artist, respect is a lifestyle.
Indomitable Spirit
Today, an indomitable spirit means taking risks, setting goals, and going for those goals. Taking risks, setting goals, and going for them, resulting in being the best. As a martial artist, you should strive to succeed in everything you do. Indomitable spirit is the grit that helps you achieve new heights in life.
So, if you are looking for ways to help your child develop all the above values, there's no better way than enrolling them in Bushi Ban martial arts classes. We teach these values from the very youngest, our Little Warriors and beyond black belt status. These principles are who we become for life. With that, we become great leaders and exemplify the good things that make up a desirable human character.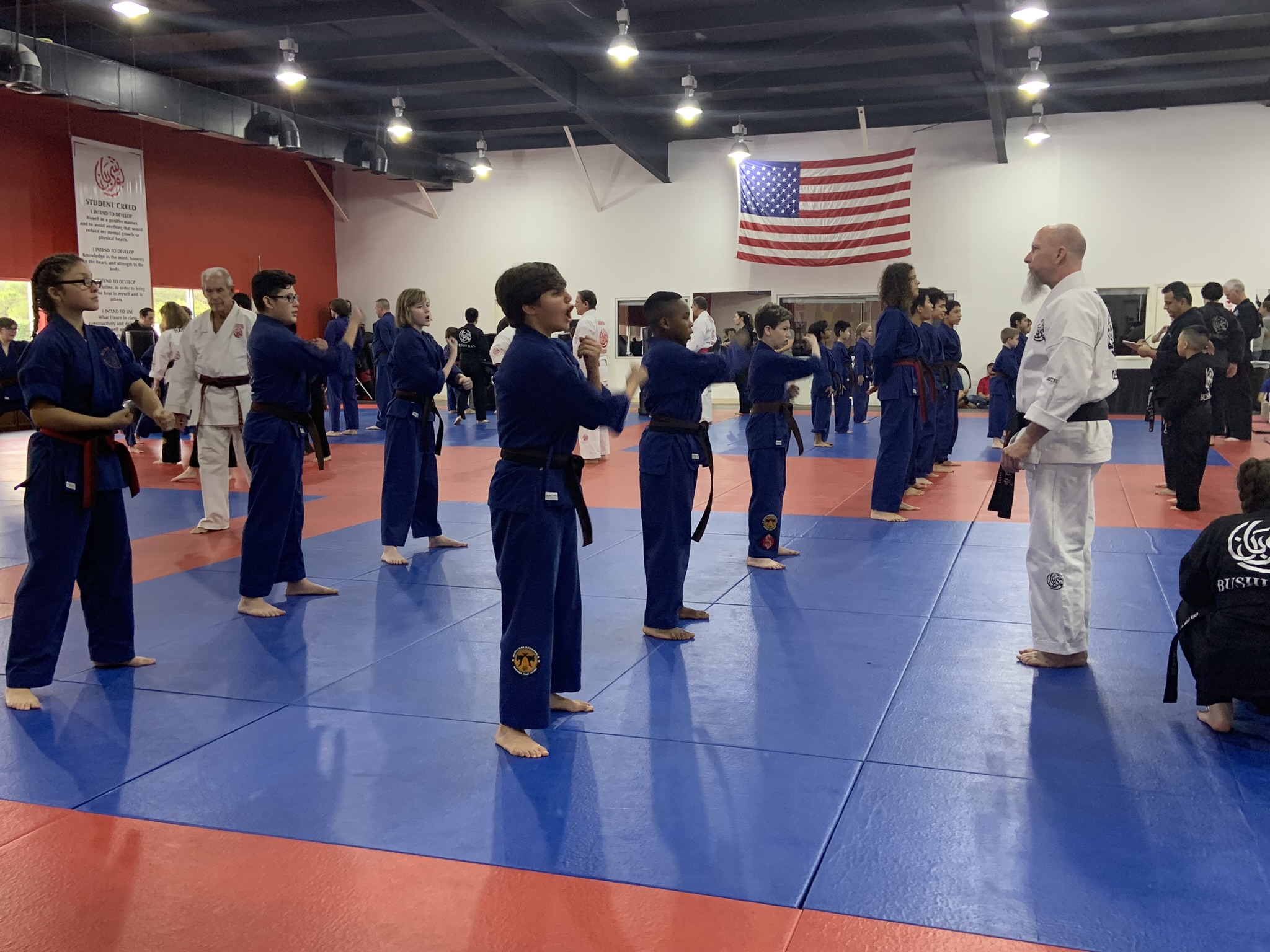 To find out more about the 9 Principles of Black Belt Excellence, find your nearest location and experience the mindset with a demo class.